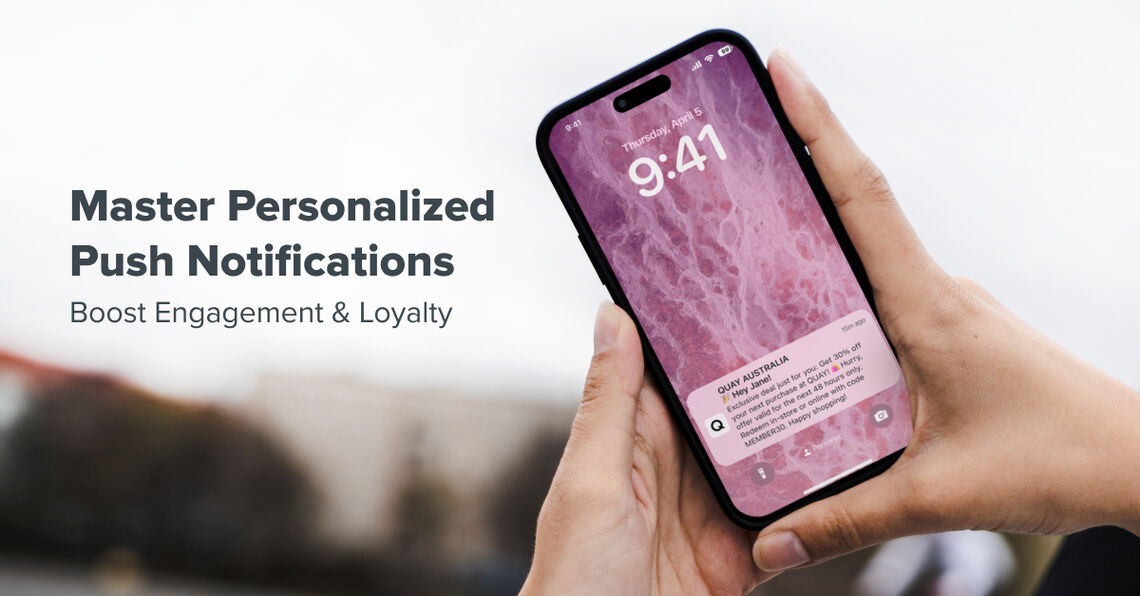 In e-commerce, you have to play the game of personalization, otherwise, you're shouting into the void. Personalized push notifications–and SMS notifications–allow marketers to cater to the individual needs of their customers, thereby increasing engagement, retention, conversions and sales. These messages can include a variety of content such as reminders, discounts, updates, requests for customer feedback and more. As you probably guessed, the text should be short and sweet and quickly grab the attention of the user.
What's more, push notifications open rates and engagement are significantly higher than email and have great reporting ability and customizability.
Types of Push Notifications for Ecommerce
Let's take a look at the two types of push notifications you can use in your marketing campaigns.
Browser Push Notifications
When people browse, they often have several tabs and windows open. Your customers are no different. Use browser push notifications to connect with users while they're looking at other sites (yes, steal their attention away). It offers a low barrier to entry and works across desktop, tablet and mobile devices.
One challenge it presents is that it requires an opt-in when visiting your website. While it's easy for users to click "Allow", it's just as easy for them to click "Block".
Mobile App Push Notifications
Mobile push notifications are advantageous because apps automatically opt users in to receive notifications and provide additional interplay with the installed application. However, depending on your needs, it can be expensive and time-consuming to develop your own application.
SMS Notifications
While text messages are technically not push notifications, they can be used in similar ways and should be an integral part of your marketing strategy. SMS messages have a mind-blowing 98% open rate. If that's not music to your ears, we're not sure what would be! Plus, delivery is reliable, and you can add links.
A challenge with SMS notifications? Your customers might consider them spam, even if they opted in to receive them. There's a lot of spam, and scams, out there so with all the messages your customer may receive on a regular basis, it can be hard to distinguish between authentic and fake.  
6 Ways to Use Push Notifications for Ecommerce Brands
Order Confirmation and Shipping Notifications
This is an obvious but important one. Simple reminders give customers peace of mind knowing that their item is on the way. You want to make your customers' lives as easy as possible; using push notifications for updates like this is one way of doing so.
Alert Customers About a New Sale or Product Release
Informing your customers about an exciting new promotion or release will likely increase your sales. Even if they're already regular customers, it helps to get in front of them as often as possible (without creating a negative shopping experience) as they probably have other brands vying for their attention, too.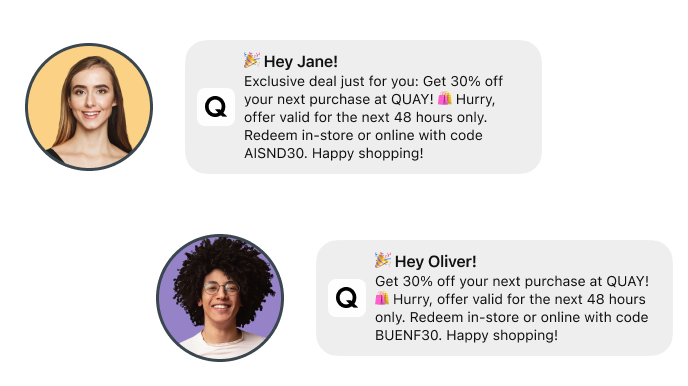 Subscription Management
Let your customers know what's going on with their subscriptions with push notifications. Some ways you can do that is to send reminders about renewing their subscription, inform them about their next delivery and promote new offerings. This will make the buying experience more enjoyable and allow customers to get the most out of your products.
Abandoned Cart, Post Purchase, Inventory Replenishment and Other Automated Marketing Sequences
Sending automated marketing messages based on where your customers are in the sales funnel is a great way to close a sale and/or upsell. For example, if a customer regularly buys a protein powder, you could send them a push notification a week before they would typically run out to encourage them e to buy more or start a subscription. 
Abandon cart sequences are also hugely successful. Using these, you can help nudge the customer towards making the purchase, first with a reminder or two, and if they still haven't completed their purchase, you can offer them a small discount to make the purchase more enticing.
Back-in-Stock Notifications
Get your customers excited about new stock! Once you segment your customers (more about this below), you can send notifications catered to their shopping habits and interests. For example, if your ecommerce shop sells sports apparel, you could send back-in-stock notifications about jerseys for customers whose buying habits on your website demonstrate they're interested in soccer apparel. You can also give customers the ability to sign up for notifications about specific items.
Incentivizing or Requesting Reviews and User Generated Content
Social proof does wonders for your brand. Use push notifications to give people discounts for leaving a review online or posting images or videos of themselves using your products. What better way to encourage more purchases and new customers than by showing that your current customers are loving your products or services? 
How to Optimize Push Notifications
Here's how you can get the best results out of your push notifications.
Segmentation & Personalization
Similar to email and SMS, it's important to be as personal as possible in your messaging. Purchase and viewing history, geographic location, age, education, income, family structure and other information relevant to your relationship with your shoppers should be considered. With this information, you can create customer segments that will help greatly improve your ability to personalize your messaging and create long-lasting relationships with customers. 
A/B Testing
Gauging how well your push notifications are performing is critical. With A/B testing, you can experiment with different messaging, times, and content for relevant audiences to make sure you are maximizing the ROI of your audience.